There are a lot of things to factor in when buying a new vehicle. One of the first things to consider is what works for you and your lifestyle. Whether you have kids who partake in extracurricular activities or you're a young professional who loves to take on weekend adventures, a Subaru that offers third-row seating just may be the right vehicle for you. Let's look at the benefits of owning a vehicle with third-row seating and see how the All-New 2020 Subaru Ascent checks everything off that list.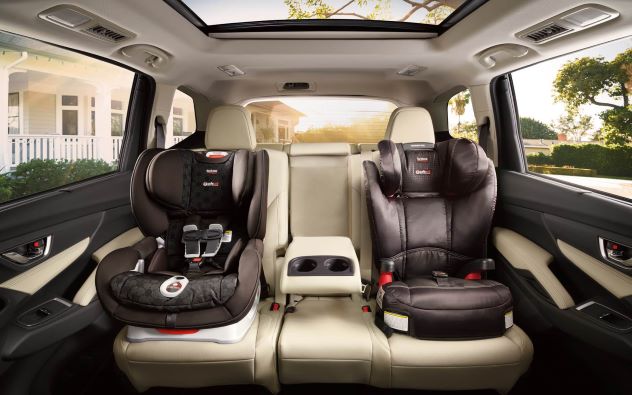 Traveling with kids can be somewhat challenging and the last thing you need is them getting cranky and being uncomfortable during out of town family trips. You're going to need as much extra space as you can to travel in comfort. Even if you're just starting a family, you will need a bigger vehicle to grow into that allows for future family expansion. With up to 153.5 cubic feet of passenger volume, extra-wide rear door openings plus underfloor storage, the 2020 Subaru Ascent is perfect for transporting children's car seats, booster seats, strollers and many more. The extra passenger seating is also great for kids who partake in after-school activities such as soccer or baseball. Carpooling with the team to games and other events is probably one of the great joys in life and your kids will love you for it. And plus, carpooling as much as you can not only decrease travel time by accessing HOV lanes, it is also a direct step into a much greener environment.
It is important to note that big family cars like the Subaru Ascent are built to last and not only great for young children. If you have kids who are getting ready for college, being able to fold down your back seats for that extra cargo space is always great when hauling big items like furniture or appliances. Fitting as much as you can during move-in days will save you from going back and forth or using more than one vehicle. The versatility of the Subaru Ascent is what makes it one of the best family cars out on the market today.
Another benefit of having a third row is being able to have second-row Captain's Chairs. There are a lot of things that make Captain's Chairs great and one of them is easier access to the third row. The open space between the two seats lets other passengers slide through without moving the seats out of the way. Another great advantage is the comfort it provides. Captain's Chairs are significantly more comfortable than bench-style seats making long road trips with your friends more pleasurable. Captain's Chairs are available on Premium and Limited Subaru Ascent trim and comes standard on the Touring trim.
At the end of the day, there aren't that many drawbacks when it comes to owning a vehicle with third-row seating other than them not being as affordable as some compact cars. But the value they bring is worth your hard-earned cash and will serve your family for many years. Remember, Subaru vehicles are built to last with 97% of Subarus sold in the last 10 years still on the road today. At your Local Long Island Subaru Dealership South Shore Subaru, we offer special deals and leasing options for the 2020 Subaru Ascent. Contact us today and schedule your next test drive!