If you're looking to purchase a Subaru, one of the things you should take into account is the engine. This will dictate its power and performance in numerous ways, and many buyers now understand the appeal of the 6 cylinder Subaru engine. We're going to talk about those engines and what makes them stand out from the alternative options below, so read on.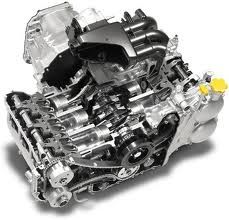 Power Options for Different Subaru Models
In the 70s, Subarus use standard 2-stroke cycle engines called the EK engine; variations of which were used until the late 1980s. Next came the EF 3 cylinder engines, and the 4 cylinder EA engine was most commonly used until the late 1990s. 4 cylinder FB engines are still used in many Subaru models and offer good fuel efficiency and lower friction loss. Recently, direct injection has been added to these engines and is present in the 2020 Outback and Legacy models. We'll discuss the 6 cylinder options later in this guide.
Your Engine Impacts Your Subaru's Performance
The overall performance offered by your car is dictated by its engine. The power, speed, tension and friction all have an impact on how your car drives and how it feels to control the vehicle when you're behind the wheel. That's why it's something that you can't afford to ignore when you're choosing which model and engine type you want to buy. That's as true for Subaru models as it is for any other kind of car.
6 Cylinder Engines
The Subaru XT was the first Subaru to possess a 6 cylinder engine and this was an ER engine. Since then, Subaru has created two other 6 cylinder engine ranges: the EG engine and the EZ engine. But what are the benefits of choosing a 6 cylinder engine over a 4 cylinder engine? It's essentially about power and performance. With more cylinder performing at the same time, more power can be generated. Every cylinder contains a piston, so when more pistons are pumping, the engine can go further and perform to a higher standard. These types of engines are often able to perform more quietly as well.
Visit South Shore Subaru
South Shore Subaru is here to help you when the time is right for you to upgrade your vehicle and find a new Subaru model that works for you and your specific requirements. We have a vast range of Subaru models, including many high-quality 6 cylinder options. Be sure to visit us and have a closer look at any of the models you might be interested in. All of the information and support you need will be readily available to you. Check out our new inventory here.
We'll be more than happy to help you out and discuss the engine options, as well as the model options, with you when you visit us here at South Shore Subaru. If you have any further questions or things you'd like to learn more about, don't hesitate to get in touch. A member of our team will be more than happy to assist you.