The 2022 Subaru Love Promise Customer and Community Commitment Award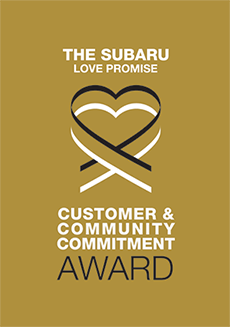 We've been nationally recognized for our dedication to our customers, our community, and the Subaru Love Promise.
We're honored to receive the 2022 Subaru Love Promise Customer and Community Commitment Award. This award nationally recognizes elite Subaru retailers who provide an exceptional customer experience at every interaction with Subaru. These retailers have also demonstrated an outstanding commitment to supporting passions and causes in their local communities in important areas such as the environment, community, health, education, and pets.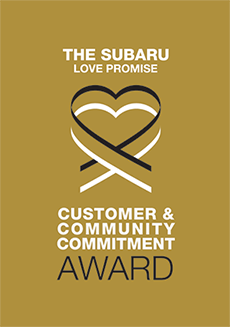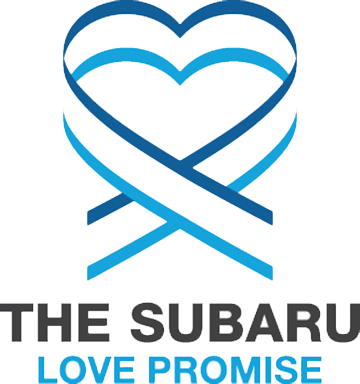 What is the Subaru Love Promise?
Subaru and our retailers believe in making the world a better place and the Subaru Love Promise is our vision of respecting all people. This is our commitment to show love and respect to our customers and to work to make a positive impact in the world.
How is South Shore Subaru dedicated locally to the Love Promise?
We are committed to being more than a retailer by being involved with the local Community and participating in all Love Promise events.
Cohens Childrens Hospital
Leukemia and Lymphoma Society
Love Promise Stories from South Shore Subaru
Subaru and South Shore Subaru believe in making a positive impact on the communities in which we live and work. We uphold that belief through our Love Promise Community Commitment. Every month, we select inspiring stories from customers and partners from around our area who strive to support our collective commitment and feature them here
Subaru Saves Lives - Bernie and Kristin L
We wanted to Share our story and thank you for building an exceptional car that saved my wife and tell you about two extraordinary men who work at South Shore Subaru. Long after the sale at South Shore Subaru, located in Lindenhurst, NY, the dynamic sales team prove time and time again that it's not just the sale that sets them apart from the rest, it's their commitment to stand behind their product and with their customers. But to be a customer of this unique dealership is to also be a friend. If you're lucky, you can work with Evan Roth. This exceptional young man is knowledgeable and wise beyond his years and once you get to know him, you will clearly see he has a bright future ahead of him. Evan works with Nico Levinas, General Sales Manager. More than a sales manager, Nico mentors his team and elevates this dealership to levels you must experience to fully appreciate. Because of the level of professionalism and the connection on a personal level, we bought a 2020 Outback Onyx from Evan and Nico. Our daughter bought a 2020 Forester Touring from Evan and Nico and my wife's parents bought a 2022 Outback Limited from them too. But that's just the beginning, Evan explained and showed us in detail why Subaru is the safest car on the road. He opened the hood and pointed out the safety features and innovative engineering built into these cars, but it wasn't until an accident - that we truly realized how thankful we are to have gone into South Shore Subaru that day. My wife was able to walk away from an accident that in my opinion, would have completely destroyed another car. Because of the relationship we developed during and after the sale of our Outback, we went back to the dealership to tell Evan and Nico of the accident. It was no surprise their first concern was for my wife and her condition. They selflessly spent all the time they could with us and listened to my wife explain what happened. They asked repeatedly how my wife was feeling, about the accident and were truly happy to be part of the reason why she lived and walked away from what could have been a tragedy. I can't say enough of what these two gentlemen did for us after the accident. I was truly left speechless. They went above and beyond Any expectations to show us we're not just customers. This was people caring for people. Even with a time lapse to get a rental, Evan and Nico offered and provided a loaner car to ensure we were still able to get around! I am so thankful that are outback save my wife's life. I'm amazing thankful to Subaru for building cars like they do and I'm equally appreciative for Evan, Nico and South Shore Subaru. In a time where everything seems uncertain, it's comforting to know people of this caliber still out there. I hope no one has to experience firsthand how safe their car is but I do hope anyone looking to invest in a Subaru does so with Evan, Nico and South Shore Subaru!
---
Above and Beyond - Megan L
Buying a car in these time is not easy, Covid-19, car shortages and more! When beginning my search I had requested several dealers to work via phone and sign papers socially distanced! Every other dealer would only work if you were to come down to their showroom, not Evan and the South Shore team. Not only did my salesman Evan Roth spend the time talking on the phone to go over the options available in the car, Evan was able to do a video walkthrough before purchase to make sure I was making the correct decision. The extraordinary service did not stop there, Evan even brought the car to my house to deliver as I had not wanted to go into the dealership. I cannot thank Evan, Nico and Andre enough for the full red carpet experience! Would also would like to mention how the service center followed right along with sales. The service Manager offered to have my car towed in for my first service to ensure I did not have to be in close contact. The car was even fully wrapped and sanitized before it was returned! Thank you again to everyone at South Shore Subaru.
---
It ain't easy being short - Darlene B
We recently purchased a 2021 Subaru Crosstrek from SouthShore Subaru. The car is beautiful and has almost every option except one, there is no power button to open /close the rear hatchback. Being 4'11" this creates quite a dilemma! It so happens we met Niko from SS Subaru while out in Port Jefferson. Niko asked what we thought of our purchase so far- "we love it, except for the one little problem ". Much to our surprise, a few days later my husband received a call from Evan Roth, our sales associate from SouthShore Subaru. Evan stated his father is quite handy and perhaps could fashion something for us: a leather strap to use a pull down! He even asked if we wanted white or orange stitching. We chose orange to match the all leather interior stitching. Within a few days, Evan called back "the strap is ready, stop in at showroom". The next day my husband and I stopped in and Evan installed the gorgeous hand strap himself! Thank you Evan , Niko and Evan's Dad for going above and beyond!
---
Our next Subaru - Harold R
Recently me and my wife were looking for our next Subaru Outback! After requesting at multiple local Subaru Dealers to have a socially distanced, outdoor meeting. South Shore Subaru was the only dealer to hold true to they're word and met my very reasonable request due to the Covid-19 Pandemic! Not only did they provide the outdoor accommodations, the respect and patience we received from both the salesman Evan Roth and his sales-manager Nico Levinas in this difficult decision. When we had arrived the following week to pick up the vehicle after it had arrived on their lot, they continued with the outdoor process to make me and my wife feel more than comfortable doing business at South Shore Subaru! And the cherry on top was the extra steps taken by South Shore Subaru by having a red bow for my wife who was ecstatic! Again an amazing experience, and many thanks to Evan and Nico as well as the entire South Shore Subaru Family!
---
Manhasset Lakeville Fire Department - Mike R
At the beginning of COVID when PPE was in very low supply, and it was difficult to find and replenish, South Shore Subaru partnered with Manhasset Lakeville Fire Department and provided them with masks. They wanted to make sure that the front line workers and the first responders had the proper equipment they needed to help keep our communities healthy and safe. It truly takes an exceptional establishment to do what South Shore Subaru continues to do for their community.
---
Great Hospitality during Covid-19 - Danielle D
It was a scary time back in April when Covid-19 first hit NY so hard. No one really knew anything about the virus and it was very challenging to get essential things done. In need of a new car, I was unsure how to proceed. I received an email from South Shore Subaru with info about their "Safe & Secure" program and it really set my mind at ease about the safety of the process. They took it to a whole other level when they offered to drop the vehicle off to save myself and their staff from unnecessary contact. I'll always remember how thoughtful they were.
---
South Shore Subaru Supports Local Hospital - Lisa Marie F
South Shore Subaru announced its participation in the 2019 Subaru Share the Love® Event and selected Cohen Children's Medical Center as their hometown charity to be added to the list of organizations that customers can select to receive a Subaru Share the Love Event donation. South Shore Subaru is part of the VIP Auto Group, a local family-owned business since 1957. South Shore Subaru will be hosting a #GivingTuesday Facebook telethon on December 3, 2019 from 11am to 4pm. Guests can follow along at South Shore Subaru Facebook Page and click to donate. #GivingTuesday is a global day of giving fueled by the power of social media and collaboration. Celebrated on the Tuesday following the widely recognized shopping events Black Friday and Cyber Monday, #GivingTuesday celebrates the charitable season, when many focus on their holiday and end-of-year giving. "South Shore Subaru is excited to partner with such an important institution in our community. We are looking forward to building a lasting relationship with Cohen Children's Medical Center," says South Shore Subaru General Manager, Joshua Tauber. "Subaru of America, Inc. has had the immense pleasure of working with a host of national and local charities throughout the life of the Subaru Share the Love Event," said Alan Bethke, Senior Vice President of Marketing at Subaru of America, Inc. "Now in its twelfth consecutive year, we look forward to continuing our support of the incredible causes and organizations our brand and our owners care most about and witnessing how this year's donations will positively impact the world around us." Guests of the dealership can also choose an item off the Subaru Giving Tree. The items requested support the basic needs a patient's loved ones might need when their loved ones are going through treatment. Items include phone chargers, notebooks with pens and arts and craft supplies. Items must be brand new and in original packaging. Guests can also participate in the giving by pledging a small donation of $5 and color a #ColorforCohen graphic to be in the hospital to cheer up the patients and their families. There will be a photo station set up where guests can snap a picture and hashtag #Hopefortheholidays at to show their support to the hospital. South Shore Subaru employees will join in on the giving by pledging a small $5 donation to wear jeans to work. Their support will be noted by a #CasualforCohen sign on their desk. The Subaru Share the Love Event will run until January 2, 2020 and allows Subaru retailers the opportunity to select charities operating in their community to be included in a list of organizations that new owners can select from to receive a $250 donation from Subaru of America, Inc. (SOA). There will be no cap on the total donation from SOA to its Subaru Share the Love Event charitable partners. SOA and its retailers hope to exceed a grand total of $170 million donated since the creation of the Subaru Share the Love Event. #ShareTheLove with South Shore Subaru and donate today: Give.Northwell.edu/SouthShoreSubaru. For more information, visit https://www.southshoresubaru.com
---
South Shore Subaru Gives Warmth to Cancer Patients - Carol P
South Shore Subaru joined the Leukemia and Lymphoma Society to deliver blankets, arts and crafts kits, and messages of hope from their customers to cancer patients being treated at Good Samaritan Medical Center- Outpatient Infusion. Nurses came by to accept the donations, bursting with excitement to share them with her patients. The representatives from South Shore Subaru shared that they were honored to support the patients being treated there.
---