The 2022 Subaru Love Promise Customer and Community Commitment Award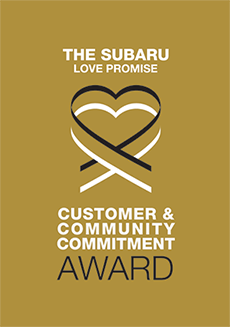 We've been nationally recognized for our dedication to our customers, our community, and the Subaru Love Promise.
We're honored to receive the 2022 Subaru Love Promise Customer and Community Commitment Award. This award nationally recognizes elite Subaru retailers who provide an exceptional customer experience at every interaction with Subaru. These retailers have also demonstrated an outstanding commitment to supporting passions and causes in their local communities in important areas such as the environment, community, health, education, and pets.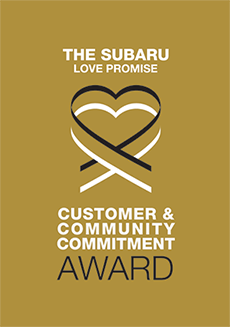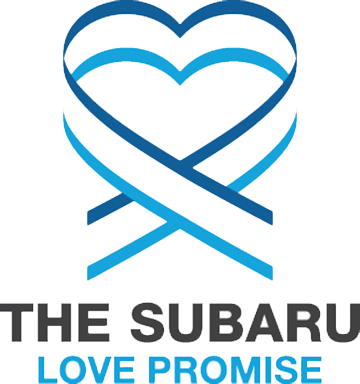 What is the Subaru Love Promise?
Subaru and our retailers believe in making the world a better place and the Subaru Love Promise is our vision of respecting all people. This is our commitment to show love and respect to our customers and to work to make a positive impact in the world.
How is South Shore Subaru dedicated locally to the Love Promise?
We are committed to being more than a retailer by being involved with the local Community and participating in all Love Promise events.
Cohens Childrens Hospital
Leukemia and Lymphoma Society
Love Promise Stories from South Shore Subaru
Subaru and South Shore Subaru believe in making a positive impact on the communities in which we live and work. We uphold that belief through our Love Promise Community Commitment. Every month, we select inspiring stories from customers and partners from around our area who strive to support our collective commitment and feature them here
Dodge's Adoption Journey - nadene m
Through our partnership with South Shore Subaru, we hosted several online adoption events virtually promoting the homeless dogs in our rescue. We are overjoyed with the feedback we received from our social media followers as well as the amount of attention our rescue received from new followers, Everyone was extremely supportive of the Subaru Loves Pets Campaign. The impact of partnering with South Shore Subaru we believe led to a joyous adoption for an underdog. Our underdog, Dodge was found emaciated, begging for food in an extremely rural area. He was so weak that he could barely stand for more than a minute at a time. Dodge was immediately brought to a veterinarian where he was found to be extremely ill. This poor pup was extremely anemic, extremely emaciated and had a heavy burden of heart worm disease. He spent many months in foster care slowly gaining weight and getting back to a normal body condition. Once he was at an acceptable weight, his battle to treat a deadly heart worm infection began. After several hospital stays and intensive treatments for his heart worm infection over three months, Dodge was ready for the chapter of his life, a forever home. That forever home came via The Subaru Loves Pets Campaign. Dodge was adopted and welcomed into a forever loving with three other rescue dogs. Never again will he feel hunger, loneliness, or sadness. His body and soul have been healed with the help of Subaru, Dan Ross our retailer contact, and the many people that followed his story and wished him well.

---
Alex Roberts and the Lindenhurst South Shore Subaru really changed my perception of car buying! - Marian C
This is our first Subaru. I've always heard that Subarus are great cars, but never considered getting one. When my daughter's car needed to be replaced, we decided to look into Subarus. The entire experience; from the moment we first walked into the dealership to when my daughter drove off the lot with her new car, has been hands down amazing! I've leased and purchased many cars, and as a woman, I've always dreaded the process. Alex treated us with the utmost respect and made everything so smooth for us. As we had to wait almost two weeks for the car to be delivered, Alex went above and beyond with customer service and kept us constantly updated on the status of the car. When we came to pick it up, the presentation and personal touches was just amazing! This made my daughter's first new car experience such a positive one. We scheduled our first free oil change in three months before leaving the lot! The attention to detail is just second to none! South Shore Subaru is also part of the VIP Program which is another reason I went with them. This program was just icing on the cake! This may be our first, but won't be our last Subaru! I've already started telling friends and family about Alex Roberts and South Shore Subaru!! They will change your whole car buying experience too!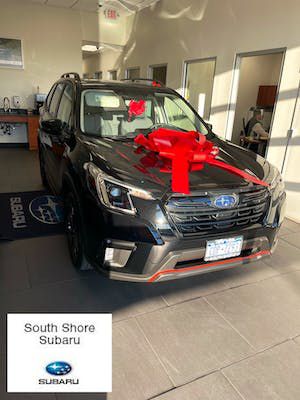 ---
Wonderful service - Jennifer S
After my car was serviced, it had an issue where the dash lights came on, no cruise control, no eye sight. All of this during a 4,000 mile road trip with my son. I called Subaru and Selenia was amazing. She set up a service call and loaner halfway into my trip in another state. My car was repaired for the second half of my trip. When I returned to New York, they gave me another loaner and went over my car to make sure it was repaired. I chose South Shote Subaru because of their commitment to excellent customer service and satisfaction. I'm sure glad I did! Thank you!
---
Best Experience!!! - Donna T
Words cannot express how grateful I am to the entire staff at South Shore Subaru. I was referred by a family member who raved about the excellent service she had and she wasn't lying. I went to South Shore Subaru not because I wanted a new car but because I needed one. My 2010 mini van after 210,000 miles died and at the worst possible time to have to buy a new car in the middle of a horribly failing economy. My salesman was Brandon Larnaitis and "perfect" wouldn't even describe how wonderful he was As I cried at his desk not wanting a car payment or a new car . He was understanding, caring and empathetic to my situation. Most importantly he was determined to make me so happy I had the new Ascent Howard got me the BEST interest rate he could and I know he worked very hard to get that rate. Like Brandon he was determined to make me happy about my new purchase and put me in a place I could financially afford without struggling too much. So much better than when I went to other dealerships prior. My car was delayed coming in and they accommodated me with a loaner car that I didn't even have to ask for it. Lisa and the girls made that transaction at service quick and easy. Everyone was making me excited for my new car and made my experience so pleasant. My car came in and when I arrived to pick it up everyone was so excited for me from the minute I arrived. My car had a BIG red bow on the hood and I felt like I was in a commercial. Howard and Brandon patiently went over everything in detail with my best interest always at heart. Brandon drove my car around as it was raining to avoid me getting wet. I came with tears of sadness on day one and through a wonderful experience with truly good, caring, professional Subaru staff members. I drove away today in my new car with tears of joy. You did it Brandon! Thank you all at South Shore Subaru, your supervisors should be proud to employ such wonderful people. I am a customer for life if these are your standards of business practice. I will recommend you and Brandon, and Howard to anyone I know wanting a new scar and a wonderful experience . A terrible time was made into a WONDERFUL experience. Thank you all more than you can ever know.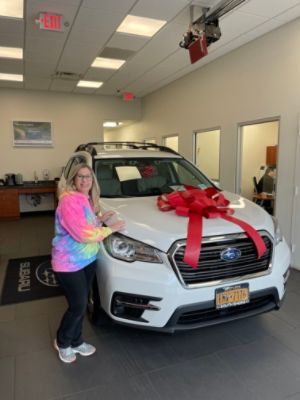 ---
LOVE My New Subaru - Eileen M
I had an appointment with Michal Dymnicki at South Shore Subaru on September 27, 2022 to look for a new vehicle since the lease on my 2020 Subaru (on the left) was nearing the end. Michal sold me my prior Subaru so, I was happy to work with him again. When I arrived at the showroom, I was warmly greeted by Michal who immediately made me feel comfortable, he showed me around and guided me through the available vehicles there. He was extremely friendly, knowledgeable and professional. The vehicle I was interested in was not at the showroom so, he quickly located one for me and had it within the hour! He worked his magic with the price of the new Subaru, and I couldn't be happier. He did it again! When my new vehicle arrived at the showroom, he spent time with me going over all the bells and whistles, patiently answering all of my questions. The big red bow and congratulations message in the vehicle was a nice touch. He kept in contact with me the next day to make sure that all was well and that the Starlink and Subaru App was updated. The whole experience with South Shore Subaru and my sales person Michal was extremely positive. Many thanks to you all, I LOVE my new Subaru!!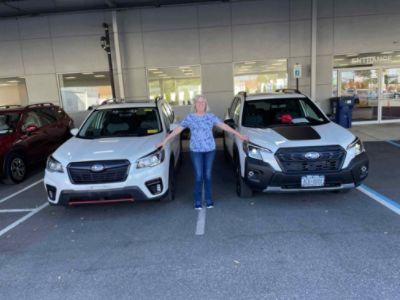 ---
Compassion - Sheila H
I'm submitting another story about my South Shore Subaru Dealership in Lindenhurst. I want to showcase the true compassion of South Shore Subaru for a different reason. I lost my father in May of 2022 and needed to prepare for a trip home in Florida to help my family prepare for services. I stopped by to have my Crosstrek serviced for the drive. Everyone there at the dealership and service center was very comforting in our sorrow, but I have to especially give a very huge shoutout to my salesperson, Evan Roth. Even made a visit to my home in the late evening to drop off a beautiful bouquet of flowers and LED scented candle that he actually made and also hand-wrote the beautiful words: " The soul's light never goes out". That touched our family so much to know that someone, like Evan, took the time to understand what our dad meant to us. I'm not out to embarrass anyone, but I wanted to share something special. In a time where most businesses just want to get your money and move onto the next consumer, South Shore Subaru actually cares about their clients long after their vehicles are bought and sold. If I do buy another vehicle, regardless of where I am, I'll go back to South Shore to buy it! Thanks for showing us the actual Subaru love!
---
GetAway.House Trip - Sheila H
Last year, July 2021, for my birthday and our anniversary, my husband and I spent almost a week at GetAway.house in the Western Catskills, NY. It was a beautiful and relaxing time for us to go completely off the grid for a while. We drove my brand new 2021 Subaru Crosstrek from the South Shore of Long Island almost 200 miles to Roscoe, NY to the beautiful tiny house cabins in the Western Catskills. It was a wonderful time spent driving around taking in the town, the scenery, the food, but most of all the peace and quiet. Driving the Crosstrek was wonderful! It was a smooth and comfortable ride to GetAway. Navigating the hilly turns was easy in my Crosstrek. There was plenty of room to store all of our camping gear and still feel comfortable for the drive. The leg room was perfect for the four and a half hour drive. We only had to gas up twice for the entire round trip drive. I'm so glad that I bought my Subaru Crosstrek from the South Shore Subaru dealership in Lindenhurst, NY. The entire staff was and continues to be like family. Evan Roth, my salesperson was wonderful as are managers Nico and Andre. Everyone there is absolutely wonderful and I will continue to go there and support their dealership by recommending my friends and family when they want to buy a new vehicle. Go South Shore Subaru Dealership, Lindenhurst, NY!!!
---
Subaru Saves Lives - Bernie and Kristin L
We wanted to Share our story and thank you for building an exceptional car that saved my wife and tell you about two extraordinary men who work at South Shore Subaru. Long after the sale at South Shore Subaru, located in Lindenhurst, NY, the dynamic sales team prove time and time again that it's not just the sale that sets them apart from the rest, it's their commitment to stand behind their product and with their customers. But to be a customer of this unique dealership is to also be a friend. If you're lucky, you can work with Evan Roth. This exceptional young man is knowledgeable and wise beyond his years and once you get to know him, you will clearly see he has a bright future ahead of him. Evan works with Nico Levinas, General Sales Manager. More than a sales manager, Nico mentors his team and elevates this dealership to levels you must experience to fully appreciate. Because of the level of professionalism and the connection on a personal level, we bought a 2020 Outback Onyx from Evan and Nico. Our daughter bought a 2020 Forester Touring from Evan and Nico and my wife's parents bought a 2022 Outback Limited from them too. But that's just the beginning, Evan explained and showed us in detail why Subaru is the safest car on the road. He opened the hood and pointed out the safety features and innovative engineering built into these cars, but it wasn't until an accident - that we truly realized how thankful we are to have gone into South Shore Subaru that day. My wife was able to walk away from an accident that in my opinion, would have completely destroyed another car. Because of the relationship we developed during and after the sale of our Outback, we went back to the dealership to tell Evan and Nico of the accident. It was no surprise their first concern was for my wife and her condition. They selflessly spent all the time they could with us and listened to my wife explain what happened. They asked repeatedly how my wife was feeling, about the accident and were truly happy to be part of the reason why she lived and walked away from what could have been a tragedy. I can't say enough of what these two gentlemen did for us after the accident. I was truly left speechless. They went above and beyond Any expectations to show us we're not just customers. This was people caring for people. Even with a time lapse to get a rental, Evan and Nico offered and provided a loaner car to ensure we were still able to get around! I am so thankful that are outback save my wife's life. I'm amazing thankful to Subaru for building cars like they do and I'm equally appreciative for Evan, Nico and South Shore Subaru. In a time where everything seems uncertain, it's comforting to know people of this caliber still out there. I hope no one has to experience firsthand how safe their car is but I do hope anyone looking to invest in a Subaru does so with Evan, Nico and South Shore Subaru!
---
Above and Beyond - Megan L
Buying a car in these time is not easy, Covid-19, car shortages and more! When beginning my search I had requested several dealers to work via phone and sign papers socially distanced! Every other dealer would only work if you were to come down to their showroom, not Evan and the South Shore team. Not only did my salesman Evan Roth spend the time talking on the phone to go over the options available in the car, Evan was able to do a video walkthrough before purchase to make sure I was making the correct decision. The extraordinary service did not stop there, Evan even brought the car to my house to deliver as I had not wanted to go into the dealership. I cannot thank Evan, Nico and Andre enough for the full red carpet experience! Would also would like to mention how the service center followed right along with sales. The service Manager offered to have my car towed in for my first service to ensure I did not have to be in close contact. The car was even fully wrapped and sanitized before it was returned! Thank you again to everyone at South Shore Subaru.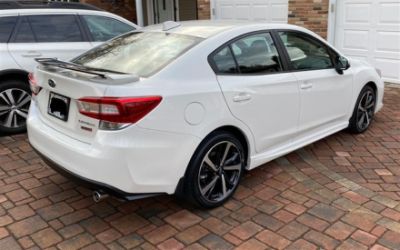 ---
It ain't easy being short - Darlene B
We recently purchased a 2021 Subaru Crosstrek from SouthShore Subaru. The car is beautiful and has almost every option except one, there is no power button to open /close the rear hatchback. Being 4'11" this creates quite a dilemma! It so happens we met Niko from SS Subaru while out in Port Jefferson. Niko asked what we thought of our purchase so far- "we love it, except for the one little problem ". Much to our surprise, a few days later my husband received a call from Evan Roth, our sales associate from SouthShore Subaru. Evan stated his father is quite handy and perhaps could fashion something for us: a leather strap to use a pull down! He even asked if we wanted white or orange stitching. We chose orange to match the all leather interior stitching. Within a few days, Evan called back "the strap is ready, stop in at showroom". The next day my husband and I stopped in and Evan installed the gorgeous hand strap himself! Thank you Evan , Niko and Evan's Dad for going above and beyond!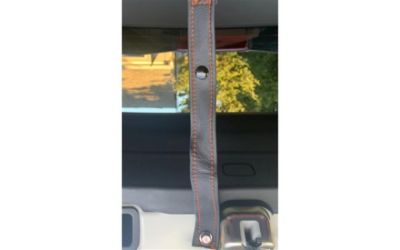 ---