Make an Inquiry
Hours
Monday

9:00am-8:00pm

Tuesday

9:00am-8:00pm

Wednesday

9:00am-8:00pm

Thursday

9:00am-8:00pm

Friday

9:00am-6:00pm

Saturday

9:00am-6:00pm

Sunday

11:00am-5:00pm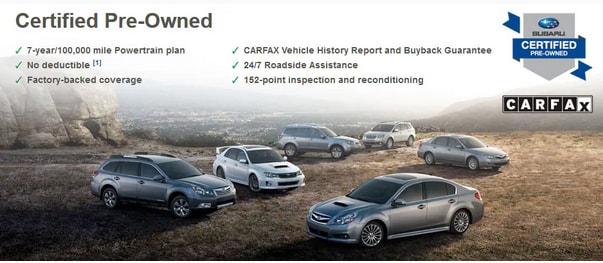 The Subaru Certified Pre-Owned Program at South Shore Subaru, Long Island, NY

We know that many car shoppers find used cars quite budget-friendly, and that's exactly why we have a used car inventory full of great options for the wallet-conscious driver. In addition to lower prices, used cars also offer their owners freedom from the worries of depreciation, since by the time you'll buy a used car, much of that value has probably already decreased anyway.

But if you're really concerned with value, then we highly recommend purchasing a Subaru Certified Pre-Owned vehicle. What does this get you that simply browsing our used car inventory won't? Subaru has a stringent process by which it defines which cars earn the designation of Certified Pre-Owned, so you know that every factor is inspected and taken into consideration. If the vehicle has under 80,000 miles on the odometer and is less than five years old, Subaru performs an extensive 152-point inspection on it. This inspection is carried out only by highly-trained Subaru technicians, and as the buyer of a CPO vehicle you'll get the full report. Certified Pre-Owned Subaru shoppers will also get a complete CARFAX® Vehicle History Report, which means you get a detailed history of the car's ownership and repairs.

That's a lot of information to equip a Certified Pre-Owned Subaru shopper with, but there's more. Every Certified Pre-Owned Subaru car also comes with roadside assistance, emergency towing services, trip routing, map service, a computerized lost key retrieval system, car rental coverage when the car's in the shop, and even discount opportunities for car and RV rentals. Twenty-four-hour roadside assistance, a buyback guarantee, and a seven-year/100,000 mile powertrain plan-it's safe to say that when you buy a Certified Pre-Owned vehicle from Subaru, your bases are covered.

For peace of mind when buying a used car, going the CPO route can't be beat. Our team of experienced Subaru dealers is happy to help explain the finer points of purchasing Subaru Certified Pre-Owned vehicles, so if you have any questions at all, don't hesitate to ask. And whether you buy used, CPO or brand-new, you can always bring your Subaru vehicle to our service department for routine maintenance or any other repairs you need. We also have a parts department that's fully stocked with any part you could need to replace on your Subaru.

SUBARU'S 7 YEAR 100,000 MILE CERTIFIED PRE-OWNED
POWERTRAIN PLAN COVERS

ENGINE
Engine block, cylinder heads, all internal lubricated parts, camshaft, drive belts, intake manifold, flywheel, valve covers, oil sending unit, oil pan, oil pump, motor mounts, seals and gaskets, turbocharger assembly and fuel injection system.

ALL-WHEEL DRIVE
Final drive housing/rear differential assembly, all internal parts, axle shafts, constant velocity joints and boots, double offset joints, propeller shaft, center support bearings, universal joints, wheel bearings and spindle, rear torsion bars and control arms, hub bearings, seals and gaskets.

TRANSMISSION
Transaxle case, all internal parts, torque converter, transmission mounts, seals and gaskets.

TOWING AND RENTAL CAR
Towing: For a covered failure, Subaru will pay you up to $50 per occurrence.
Rental Car: If your car is kept in the shop overnight for a covered failure, Subaru will pay you up to $35 a day toward the rental, to a maximum of $175 for each disablement.

UPGRADE TO MORE COMPREHENSIVE COVERAGE IF YOU CHOOSE

SUBARU CLASSIC PLAN
Classic Plans cover everything listed under Powertrain (above), PLUS:

COOLING AND FUEL
Radiator, water pump, fuel lines, fuel tank, engine fans, fan motors, heater core, fuel sending unit.

STEERING
Steering rack assembly and all internal parts, steering column shaft and coupling, universal joints, power steering pump, seals and gaskets

FRONT SUSPENSION
MacPherson struts, transverse link control arms, shafts and bushings, ball joints, steering knuckles, wheel bearings, stabilizer bar and bushings, seals and gaskets.

AIR CONDITIONING
Compressor, condenser, evaporator, expansion valve, blower motor, clutch and pulley, compressor seal and receiver/dryer.

ELECTRICAL
Alternator, voltage regulator, starter motor and solenoid, wiring harnesses, engine management control unit, power window motors, windshield wiper motors, ignition coil, power door locks, power mirror motors, analog dash  gauges, trip computer, clock, heater blower motor and switch, manually operated switches, digital instrumentation cluster, horns, window regulators, speedometer head,  electrical relays, sunroof motor.

BRAKES
Master cylinder, wheel cylinder, Incline Start Assist, hydraulic lines and fittings, disc brake calipers, power brake assist unit, Anti-lock Brake System (ABS), Traction Control System (TCS), seals and gaskets.

FOR THE BEST BUMPER TO BUMPER PROTECTION

SUBARU GOLD PLUS PLAN
GoldPlan includes everything listed under Powertrain AND Classic (above), PLUS:
Added Security Gold Plus is similar to the manufacturer's bumper-to-bumper coverage. So many components are covered that it makes more sense for us to list what isn't covered than to try to list all of the covered components. An example of things not covered under Gold Plus are things like brake disc/pads, clutch disc, wiper blades, light bulbs and routine maintenance items. Please read the contract for details.

Some examples of the many things covered by Gold Plus are:
Cruise control, radio and speakers, seat belt assembly, rear window defogger, thermostat, springs, engine brackets (including power steering), gear shift levers, hand brake levers, pedals, cables and latches, locks, seat releases,  heater and a/c ducts and vents, wiper arms, window tracks, guides, handles and knobs, frame, floor boards and body joints, O2 and knock sensors, CD player, power seat motors, navigational system and DVD player.

TRIP INTERRUPTION ALLOWANCE
If your car must be kept in the shop overnight for a covered repair during or after the warranty period, Added Security Gold Plus pays up to $500 towards your actual  expenses for lodging and meals for you and your family when the breakdown occurs more than 50 miles from your home. If necessary, we can even assist you in locating  a nearby hotel, rental car or travel agency.

ROAD HAZARD TIRE PROTECTION
Guards you against the costs related to tire damage from potholes, nails, glass and other road hazards not covered by the tire manufacturer's warranty. The four original tires  are covered for repairable leaks or punctures during the plan term. In the event that tire replacement is necessary, the plan will cover the prorated cost up to $300.

24-HOUR ROADSIDE ASSISTANCE
"Sign and Drive" service up to $100 per disablement to get you back on the road as quickly as possible with no out-of-pocket expense.  Emergency dispatch towing for covered warranty or Added Security breakdowns.  Emergency on-site road service for jump start, gasoline delivery, tire change (with your good spare) and other minor repairs.  Emergency lockout or locksmith service. Computerized trip routing and much more.

Ready to dive into the world of Subaru Certified Pre-Owned? Stop by our location at 305 East Sunrise Highway, Lindenhurst NY, to speak with one of our friendly staff about the program. We look forward to your visit here at South Shore Subaru.